ExoticA:Hosting
From ExoticA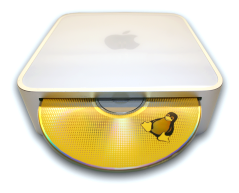 ExoticA is hosted with Mythic-Beasts who are kindly sponsoring the bandwidth needed for the site. They offer an excellent Mac Mini dedicated hosting service which is ideal for a low cost hosting solution. The Mac Mini is very small, so you can fit 8 in 3U of rackspace, but also they don't require a great deal of power. For more details please visit the Mythic-Beasts Dedicated Servers page. They also offer a Mac Mini co-location service.
Hardware
Web Server
Mac Mini Core Duo 1.83ghz (First hosted on a Mac Mini 1333MHz G4 that died in 2009)
2GB Ram
500GB 2.5" Internal HD + 160GB External on USB
1000mbit Ethernet to Internet
Streaming/Mirror/Backups Server
Intel Core 2 Quad Q8200 (4x 2.33GHz)
4GB Ram
4 x 3TB & 5 x 1.5TB SATA Drives (Hot-swappable)
Software
Web Server
Debian 'Wheezy'
NGiNX (Engine X) / Apache 2.2.x
PHP 5.x
MariaDB 5.x
The web server name is Malus, which is the genus for Apple :-)
Hosted Sites
The following sites are hosted on Malus
We mirror the following sites
Mirrors of ExoticA
Archive mirrors have been kindly provided by
Pictures
And to finish with we have to have some pictures of malus. Malus is on the bottom left. (these are actually pictures of malus mk1 that has now been replaced).
Site Admin
The main site admin can be contacted by emailing buzz [at] exotica.org.uk
External Links