AMFM Diskmag 4
From ExoticA
AM/FM Magazine Disk #4
Articles/General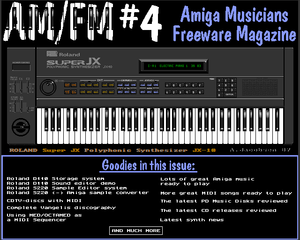 Tech Corner: How to allocate the audio channels correctly, by Teijo "MED" Kinnunen.
CDTV and MIDI
Standard Roland drum map
Useful MIDI information

MIDI Control Change Messages
MIDI Messages laid out for programmers
Table of MIDI Note numbers

Sound/Music News from the 5th 16-bit Computer Show in London
Generally about Amiga and MIDI by Pasi Kovanen
Complete Vangelis discography
Public Domain Music disks reviewed:

Proton - "Gate of Pagan"
Vega - "Vega Music Disk 3"
The Shining Path - "T.S.P. Music Comp"
Prophecy - "Numeric 2"
LSD UK - "Grapevine Megamix"
Utilities
Roland D-110 Bank Loader

Use the Amiga to store the Roland D-110's banks!

Roland D-110 Editor (Demo version)

Working demo version of a superb D-110 voice editor! Edit sounds on the Amiga screen instead of in the 2-line LCD display. Finally! (PS: No save)

Roland S-220 Sample Storage System v2.0

Store Roland S-220 samples on Amiga disks!

Roland S-220 to Amiga Sample Converter v1.4

Convert the Roland S-220 samples to Amiga format! Great!
MIDI Music
Beethoven's 5th for piano
"Marathon" by Rush
"Candle In the Wind" by Elton John
"Backplay" by Geir W. Kristoffersen
Amiga-only Music
"Streebeat" - by Paal Teien
"Dark Star" - by S.J.Pain
"Quantum-2" - by Robert Korzeniewski
"Messing Up" - by Sami Jumppanen
Downloads
amfm04.dms - AM/FM Issue 4 (DiskMasher format) - 557KB