AMFM Diskmag 5
From ExoticA
AM/FM Magazine Disk #5
Articles/General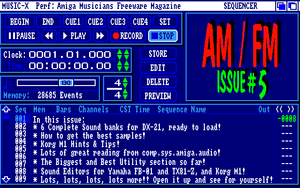 Yamaha DX-21 MIDI & SysEx format
How to achieve good sound quality on your samples
Useful extracts from comp.sys.amiga.audio [1] and [2]
Korg M1 Tips - Get the most from your M1
Review: Zero-G Datafile Sampling CD's
Review: Masterbits S-CD-900 Sampling CD
Protracker 1.3 Preview
Review: PlaySid 2.0ß
Utilities
6 Complete Yamaha DX-21 Sound Banks ready to use!
Yamaha TX-81Z Sound Editor/Storage System
Yamaha FB-01 Sound Editor/Storage System
MOPED - Korg M1 storage system
MIDI Playground

Translates binary/english/midi, lots of uses for this great, flexible MIDI tool!

Noise-cracker v1.02
SoundTime

Finds out how long a sound lasts.

Realtime Oscillator

Superb looking full-screen oscillator!
MIDI Music
"Orient Express" by J.M.Jarre
"Maniac" by Pasi Kovanen
"Twilight Time" - 50's hit by The Platters
"Mary's Child" - Golden oldie
"Missanoe" (Unknown author), Nice, calm, "old english" piece
Amiga-only Music
"Graveyard 2" - by Seppo Hurme
"Chuck is Back" - by Kim Jensen
Downloads