AMFM Diskmag 16
From ExoticA
AM/FM Magazine Disk #16
Articles/General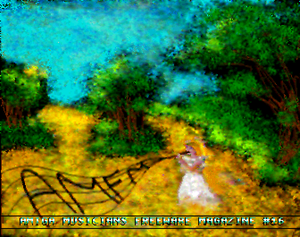 Great music competition! Win a Fax-modem, a TV, a scanner and lots more!
General MIDI Map AND 16 FREE NEW Sounds for Yamaha SY-55 / TG-55 !!!
AM/FM's great Music/MIDI jargon buster, version 1.0 ! (To be continued..)
General News, AM/FM Small-talk and other gossip...
Latest synth news from André Meyer
The making of "Hobbits & Spaceships", Part 2 of 2
RiffGrabber - new utility for Deluxe Music Construction Set users
DPaint Template for Cassette Covers
Review: GVP's new "DSS8+" Sound Sampler.
Protracker/OctaMED Studio; Part 4: Volume Fine-Sliding
Protracker/OctaMED Studio: OctaMED update on parts 1, 2, 3 !
Arexx & OctaMED
Electronic Dreams: A label with an attitude!
PD Reviews:

Cybernetix Music Compilation Disk
Dataclan: "Beatbox"
Gladiators Music Disk 1
MED Users Group: "Friends Of Paula 3"
Pendle Europa: "Music Madness"
"Samples Unlimited" Sample Disk

CD REVIEWS

Sound Effects CD: "Essential Science Fiction Effects, Vol. 2"
Utilities
Universal MIDI Patch Panel
Yamaha FB-01 Editor
Yamaha FB-01-printer
Matrix 6 Editor!
DXSwap
Amiga-only Music
MIDI Music
Downloads
amfm16.dms - AM/FM Issue 16 (DiskMasher format) - 690KB