Lost In Translation/Ninja Warriors, The
From ExoticA
The Ninja Warriors

Manufacturer
Taito Corporation Japan
Released
1987
Control
Method
8-way Joystick
2 Button(s)
Main CPU
(2x) 68000 (@ 8.000 MHz)
68000 (@ 8.000 MHz)
Sound CPU
Stereo
YM2610 (@ 8.000 MHz)
(4x) Volume Filter
Video
Details
Raster (Horizontal)
288 x 224 pixels
60.00 Hz
12,288 Palette colours
Screens
3
ROM Info
27 ROMs
6,554,624 bytes (6.25 MiB)
MAME ID
ninjaw · ninjawj
About The Game
The Ninja Warriors is a 2-player horizontally scrolling arcade video game beat-em-up where two robot ninjas fight an entire army to destroy an evil dictator in this horizontal action game, which features physical damage on our heroes
Additional Technical Information
Players : 2
Control : 8-way joystick
Buttons : 2 (DAGGER, SHURIKEN)
Trivia
Licensed by Romstar for US distribution
This arcade game was one of the first to use a 3-screen display. The actual resolution of the game is 3x(288x224) or 864x224 giving a very long horizontal display, hence some of the conversions opting to display the game in the widescreen format.
The main sprite in the arcade version was 91 pixels tall, nearly half the screen height!
Banglar, the main enemy who looks like Yoda from the Star Wars films makes a cameo appearance in "Aqua Jack" 2 years after appearing in The Ninja Warriors.
Brian Chapel holds the official record for this game with 188,900 points.
Series
The Ninja Warriors (1988)
The Ninja Warriors Again (1994, Nintendo Super Famicom)
Staff
Produced By

Yojiro Suekado

Directed By

Masaki Ogata

Written By

Onijust

Executive Producer

Hisao Yunoki

Director Of Software

Daisuke Sasaki

Programmers

Yoshihisa Nagata
Yuji Iwasaki
Yoshiyuki Watabe
Masaki Ogata
Daisuke Sasaki

Production Designer

Yukiwo Ishikawa

Character Designers

Masami Kikuchi
Yoshihiro Wakita
Toshiyuki Nishimura
Taira Sanuki
Shinobu Iwabuchi
Sachiko Yamana
Junji Yarita
Kohzoh Igarashi
Tetsuro Kitagawa
Yukiwo Ishikawa

Assistant Character Designers

Visual Arts Produtcion
Animation 20
Space Creative

Supervising Editor

Tetsuro Kitagawa

Editors

Masami Kikuchi
Yukiwo Ishikawa

Costume Designer

Hiroshi Wagatsuma

Hardware Designer

Toshiyuki Sanada

Assistant Hardware Engineer

Satoru Shimomura

Music Composed & Directed By (Zuntata)

Hisayoshi Ogura

Assistant Sound Programmer (Zuntata)

Naoto Yagista

Sound Editor (Zuntata)

Yasuhisa Watanabe

Sound Hardware Designer

Tsukasa Nakamura

Publicity Supervisor

Hisayoshi Nakane

Game Designed By

Onijust
Cabinet and Artwork
Ports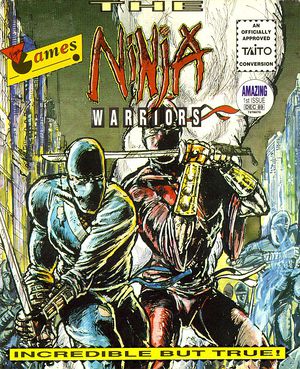 Consoles

NEC PC-Engine (1989)
Sega Mega-CD
Computers

Amstrad CPC (1989)
Atari ST (1989)
Commodore Amiga ("The Ninja Warriors", 1989, Virgin Mastertronic)
Commodore C64 (1989)
Sinclair ZX Spectrum (1989)
Soundtrack Releases
| Album Name | Catalogue No. | Released | Publisher | Comments |
| --- | --- | --- | --- | --- |
| Zuntata Live '90 -G.S.M. Taito- | PCCB-00045[1] | 1990-10-21 | Pony Canyon/Scitron | CD version. |
| Ninja Warriors - Famous Recording Series | PCCB-00074[2] | 1991-10-21 | Pony Canyon/Scitron | CD version. |
| Z-REPLICA Vol.1 DADDY MULK THE NINJA WARRIORS | ZTTL-0024[3] | 1998-07-23 | Zuntata Records | CD version. |
| ZUNTATA LIVE 1998 "güten Talk" from the earth ~AUDIO FILE~ | ZTTL-0031[4] | 1998-10-21 | Zuntata Records | 2 CD version. |
| ZUNTATA LIVE 1998 "güten Talk" from the earth ~VISUAL FILE~ | N/A[5] | 1998-11-10 | Zuntata Records | Released on VHS. |
| ZUNTATA HISTORY L'ab-normal 1st | ZTTL-0038[6] | 1999-04-01 | Zuntata Records | CD version. |
| Zuntata Night | ZTTL-0047[7] | 1999-10-21 | Zuntata Records | CD version. |
| THE VERY BEST OF OGR GALLERy ~Concepts~ | ZTTL-0049[8] | 1999-12-18 | Zuntata Records | 2 CD version. |
| Ninja Warriors Complete Album | PCCB-00116[9] | 1993-03-19 | Pony Canyon/Scitron | CD version. |
| The Ninjawarriors -G.S.M. TAITO 1- | D28B-0001[10] | 1988-06-21 | Pony Canyon, Inc. | CD version. |
| Game Music Now & Then | SCDC-00292~3[11] | 2003-12-17 | Scitron Digital Content | 2 CD version. |
| The Ninjawarriors -G.S.M. Taito 1- | 25P5-0001[12] | 1988-06-21 | Scitron Digital Content Inc. | Cassette version. |
| The Ninjawarriors -G.S.M. Taito 1- | C22B-0001[13] | 1988-06-21 | Scitron Digital Content Inc. | Vinyl version. |
| TAITO MOBILE PHONE GAME SOUND COLLECTION Vol.1 | ZTTL-9002[14] | 2007-01-12 | Zuntata Records | Digital download only. |
| Scitron 10th Anniversary Special CD Sampler | DMCZ-300098[15] | 1998-01-01 | Scitron Label | 2 CD version. |
| Gaesen Oh - Scitron Game Music Mega Mix Vol.1 | KGCD-0001[16] | 1994-01-01 | Pony Canyon/Scitron | CD version. |
| Beep Special Project - Wai Wai GAME MUSIC | N/A[17] | 1988-03-01 | Softbank Publishing | Vinyl version. |
| GS SELECTION - GS Club Special Project | N/A[18] | 1988-03-01 | Softbank Publishing | Double vinyl version. |
| The Ninja Warriors arrange sound tracks | ZTTL-9016[19] | 2009-02-11 | Zuntata Records / Taito Corp | Digital download only. |
| Violin de Hiitemita ep2 ~ Maou no Gyakushuu / Scream no Hito | SRIN-1063[20] | 2009-09-02 | SuperSweep | CD version. |
Screen Shot Comparison
Title Screen
Intro Screen
Ingame Screen
Sound Comparison
External Links
References