Lost In Translation/Deep, The
From ExoticA
The Deep

Manufacturer
Woodplace Inc.
Released
1987
Control
Method
8-way Joystick
2 Button(s)
Main CPU
Z80 (@ 6.000 MHz)
M65C02 (@ 2.000 MHz)
Sound CPU
Mono
YM2203 (@ 3.000 MHz)
Video
Details
Raster (Vertical)
256 x 248 pixels
60.00 Hz
512 Palette colours
Screens
1
ROM Info
16 ROMs
677,376 bytes (661.50 KiB)
MAME ID
thedeep · rundeep
About The Game
The Deep lets you control one or two boats floating along the high seas. The boats are armed with depth charges for dropping on the aquatic wildlife and submarines in the depth far below. Homing torpedoes, Polaris missiles, mines, Stingray style vessels and other boat-wrecking hazards make up the threats to avoid or destroy. Bonus capsules which float up to the surface boost the boat's speed, increase depth charge power, give the player temporary invincibility and other normal features but of a marine vein. The depth charges take their time to float to their target so plan ahead using the map, submarines at different heights in the water pose further problems. This game also has good BGs.
Additional Technical Information
Players : 2
Control : 8-way joystick
Buttons : 2
=> SHOOT BACK, SHOOT FORWARD)
Trivia
This game is known outside Japan as "Run Deep".
Staff
Produce

Hisayoshi Ichikawa

Script

Shoji Takagi

Program

Shunji Ito
Tomoaki Kasuya
Toshihisa Shiono

Graphic

Shoji Takagi
Tutomu Ozawa
Kazuhiro Iizuka
Kei Tamura

Music

Yoshio Watanabe
Kiyoshi Kusatu
Cabinet and Artwork
Ports
Computers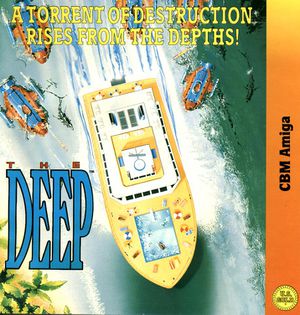 Sinclair ZX Spectrum (1988)
Atari ST (1988)
Commodore C64 (1989)
Amstrad CPC (1989)
Commodore Amiga (1989, U.S. Gold)
External Links