Alien Breed Tower Assault Movies
From ExoticA
Alien Breed: Tower Assault - The Movies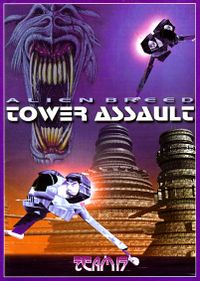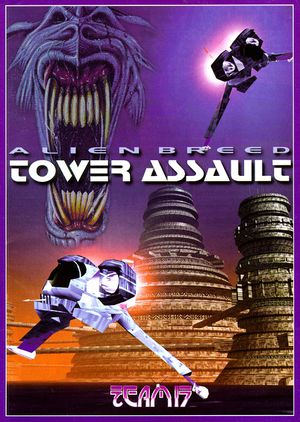 For your downloading pleasure, here with permission from Martyn Brown at Team17 are the complete intro and outro movies for the classic Amiga CD³² game Alien Breed: Tower Assault.
Converted to MPEG-1 from the original CDXL version by XtC.
[Techical Information] Though there are utilities available on Aminet to extract both sound and video from a CDXL animation, the sound data in the intro could not be extracted correctly using them. So I wrote a program in AMOS (yes, AMOS) to do the job!
Here's a little overview of the story...
The Credits
Animated & Directed by
Production Co-ordinator
Project Manager
Game Coding
Game Graphics
Original Coding
Original Graphics
Screenplay
Story
Martyn Brown
Marcus Dyson
John Allardice
Intro/Outro Music
Production Assistant
Mapping
Playtesting
Special Weapons Construction
Pyrotechnics
Cast
Marine Commander
Squad Captain
Flt Lft Jordan
Flt Lft Nash
Colony Technician
Pilots
Dan Cook
Chris Blyth
Mat Cook
Scy
Edited by
Assistant Sound Editor
Stills Photographer
Alien Breed: Tower Assault
© 1994 Team17 Software Ltd

Alien Breed Intro & Outro
© 1994 Shadowmaker Ltd

Filmed on location in deep space, Azarin 2E and a disused sausage factory in Wakefield, West Yorkshire.

All characters and events portrayed in this production are ficticious. No similarity to actual persons or alien life forms, living or dead, or to actual events or entities is intended. And besides, if you do complain we'll just send Marcus & the boys round to rip your arms off & beat you death with the wet ends. So there.
Downloads
External Links