Fred Editor
From ExoticA
General Information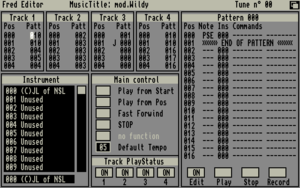 (C)1989. Frédéric Hahn & Julien Clermonte
Music editor and audio routines by Frédéric Hahn with some support from Julien Clermonte. Also (wrongly) known as Fredmon or Fred Monitor.
4 Voices. 1 pattern/voice. Sampled and synth instruments. Volume enveloppe. 10 subsongs max. Embedded code in the front of the module (called 'Final'). Effects : vibrato, arpeggiato, portamento.
Technical Information
File Prefix/Extension

fred

Editor

Editor V0.9, official replay, module (editable) to final converter and unofficial manual here (?).
Replayer/File Specification

Disassembled and commented replay, module and final formats, editable version of 'TripToMars' (previously in the Ilyad game) and 'FuzzInGame' here (L Clévy).
"
No support provided on source files, it's 10 years old :-)
"
Players
AmigaOS

Windows

Oldsk00l (C Sørensen)

Linux

UADE (H Orsila & M Doering)

BeOS

APlayer (T Neumann)
Music in the UnExoticA collection
Games
Demos
Demo
Year
Group / Party
No Fred Editor demo music in the archive