Lost In Translation/Cisco Heat
From ExoticA
Cisco Heat

Manufacturer
Jaleco
Released
1990
Control
Method
Paddle
5 Button(s)
Main CPU
(3x) 68000 (@ 10.000 MHz)
68000 (@ 6.000 MHz)
Sound CPU
Stereo
YM2151 (@ 3.000 MHz)
(2x) OKI6295 (@ 1.584 MHz)
Video
Details
Raster (Horizontal)
256 x 216 pixels
30.00 Hz
5,632 Palette colours
Screens
1
ROM Info
30 ROMs
10,944,512 bytes (10.44 MiB)
MAME ID
cischeat
About The Game
Cisco Heat is a colourful chase-view racing arcade video game in which the player takes on the role of a police officer who must race his squad car (from a choice of 2; offering either improved 'Speed' or 'Cornering' respectively) through the undulating, winding streets of San Francisco', in an attempt to win the first ever 'National Championship Police Car Steeplechase'.
Each stage is packed with rival squad cars, as well as civilian traffic such as taxis, trams and fire-engines. Ninety-degree turns must also be negotiated in this tricky driving game. Cisco Heat features five different stages.
Trivia
Released in November 1990.
Also released as :
"Cisco Heat [Upright model]"
"Cisco Heat [2-Seater model]"
Cisco Heat's distinctive graphical approach proved to be a little too ambitious for its host hardware, with flickering and occasionally unpredictable sprites making an appearance.
Cabinet and Artwork
Ports
Computers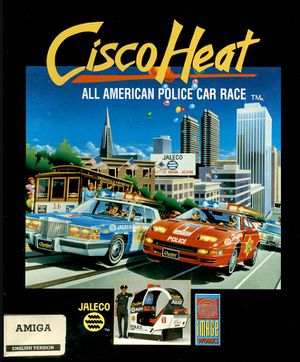 Commodore C64 (1991)
Sinclair ZX Spectrum (1991)
Amstrad CPC (1991)
Commodore Amiga ("Cisco Heat", 1991, Image Works)
Atari ST (1991)
PC [MS-DOS, 5.25"] (1991)
External Links