Lost In Translation/Dynablaster
From ExoticA
Dynablaster

Manufacturer
Irem (licensed from Hudson Soft)
Released
1991
Control
Method
8-way Joystick
2 Button(s)
Main CPU
V30 (@ 8.000 MHz)
Z80 (@ 3.580 MHz)
Sound CPU
Mono
YM2151 (@ 3.580 MHz)
DAC
Video
Details
Raster (Horizontal)
320 x 240 pixels
60.00 Hz
512 Palette colours
Screens
1
ROM Info
8 ROMs
1,507,328 bytes (1.44 MiB)
MAME ID
dynablst · atompunk · bombrman · dynablsb
About The Game
Dynablaster is an arcade video game.
In the future, fight competitions among robots are the most popular event. Bomber Man & King Bomber are the supreme champions, however King Bomber turns evil and attacks mankind with his loyal minions. Bomber Man & his brother Bomber Man 2 must defeat these henchmen and show King Bomber that crime just doesn't pay! Features cute graphics & music and insanely addictive gameplay. Have a blast, but don't get blasted yourself!!!
Trivia
Licensed to Irem.
This game is known in Japan as "Bomber Man".
Series
Bomber Man (1987, Nintendo Famicom)
Dynablaster (1991)
New Atomic Punk - Global Quest (1992)
Bomber Man II (1992, Nintendo Famicom)
Bomber Man '93 (1992, NEC PC-Engine)
Super Bomber Man (1993, Nintendo Super Famicom)
Bomber Man '94 (1994, NEC PC-Engine)
Super Bomber Man 2 (1994, Nintendo Super Famicom)
Super Bomber Man 3 (1995, Nintendo Super Famicom)
Super Bomber Man 4 (1996, Nintendo Super Famicom)
Neo Bomber Man (1997)
Super Bomber Man 5 (1997, Nintendo Super Famicom)
Bomber Man Online (2001, Sega Dreamcast)
Cabinet and Artwork
Ports
Computers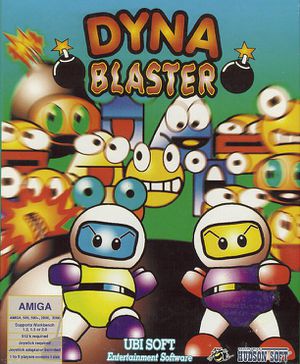 PC [MS-DOS] (1991)
Commodore Amiga ("Dyna Blaster", 1991, Ubi Soft)
Soundtrack Releases
| Album Name | Catalogue No. | Released | Publisher | Comments |
| --- | --- | --- | --- | --- |
| Music from Bomberman | FHCF-1104[1] | 1990-12-24 | Fun House | CD version. |
| Hudson Game Music | 28XA-87[2] | 1986-07-25 | Alfa Records | CD version. |
| Hudson Game Music Best | FHCF-2059[3] | 1992-12-21 | Fun House | CD version. |
| Mr.B·Bee Bomberman | FHCF-2224[4] | 1995-03-01 | Hudson | CD version. |
| Hudson Game Music | ALR-22903[5] | 1986-07-25 | G.M.O. Records | Vinyl version. |
| Bomberman Theme Song - Mr.B·Bee | FXD-5107[6] | 1994-01-01 | HUDSON SOFT | CD version. |
| Bomberman Theme Song - Mr.B·Bee | FXD-5107[7] | 1994-07-21 | HUDSON SOFT | CD version. |
References