Lost In Translation/Dynamite Düx
From ExoticA
Dynamite Düx

Manufacturer
Sega
Released
1989
Control
Method
8-way Joystick
2 Button(s)
Main CPU
68000 (@ 10.000 MHz)
Z80 (@ 5.000 MHz)
Sound CPU
Mono
YM2151 (@ 4.000 MHz)
UPD7759 (@ 640.000 kHz)
Video
Details
Raster (Horizontal)
320 x 224 pixels
60.05 Hz
6,144 Palette colours
Screens
1
ROM Info
13 ROMs
1,286,144 bytes (1.23 MiB)
MAME ID
ddux · ddux1 · dduxbl
About The Game
Dynamite Düx is an arcade video game.
An abstract and hugely entertaining take on the classic sideways scrooling beat-em-up genre for one or two players; in which two blue and red pet ducks called 'Bin' and 'Pin' take on a variety of bizarre enemies - such as disembodied moose heads and mortar-using wolves - in their quest to rescue their kidnapped owner, Lucy.
The ducks have a powerful punch which can be 'charged-up' by holding down the button, in a similar fashion to the beam weapon in Irem's "R-Type". In addition, extra weapons such as rocket launchers and bombs can be picked up along the way.
There are also two bonus stages (which appear after levels 2 and 4). In these stages player one fights against player two. The winner is awarded 100000 points. If the time limit expires before the fight is settled, the player with the most energy is awarded 50000 points.
Trivia
The main character 'Bean' (Bin) appears in the Sega arcade game "Sonic The Fighters" as a playable character.
A bootleg of this game was made by Datsu.
Staff
Music By

Hiroshi Miyauchi
Cabinet and Artwork
Ports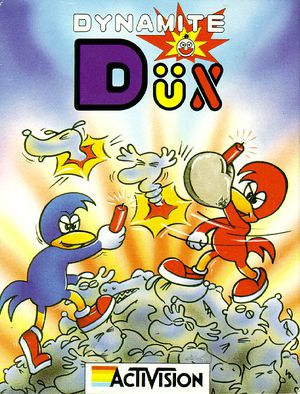 Consoles

Sega Master System (1989)
Computers

Sinclair ZX Spectrum (1989)
Commodore C64 (1989)
Atari ST (1989)
Commodore Amiga ("Dynamite Düx", 1989, Activision)
Amstrad CPC (1989)
Soundtrack Releases
| Album Name | Catalogue No. | Released | Publisher | Comments |
| --- | --- | --- | --- | --- |
| Power Drift & Mega Drive -G.S.M. SEGA 2- | D28B-0010[1] | 1988-12-28 | Pony Canyon Inc. | CD version. |
| Segacon -The Best of Sega Game Music- Vol.1 | SVWC-7092~4[2] | 2001-10-24 | SME Visual Works | 3 CD version. |
| Power Drift & Mega Drive -G.S.M. SEGA 2- | 25P5-0010[3] | 1988-12-28 | Pony Canyon Inc. | Cassette version. |
| Power Drift & Mega Drive -G.S.M. SEGA 2- | DC-0016[4] | 1989-01-01 | Pony Canyon, Scitron | CD version. |
External Links
References