Lost In Translation/Mercs
From ExoticA
Mercs

Manufacturer
Capcom
Released
1990
Control
Method
8-way Joystick
2 Button(s)
Main CPU
68000 (@ 10.000 MHz)
Z80 (@ 3.580 MHz)
Sound CPU
Mono
YM2151 (@ 3.580 MHz)
OKI6295 (@ 1.000 MHz)
Video
Details
Raster (Vertical)
384 x 224 pixels
60.00 Hz
4,096 Palette colours
Screens
1
ROM Info
20 ROMs
4,521,984 bytes (4.31 MiB)
MAME ID
mercs · mercsj · mercsu · mercsua
About The Game
Mercs is an arcade video game.
The US faces a grave crisis! The former president has been kidnapped by a group of revolutionaries while on a trip on Central Africa meant to promote world peace. Take control of three highly skilled anti-terrorist soldiers and venture through enemy lines to save the former president & annihilate the rebel army in the process. Features solid graphics & sound, plenty of weapons & vehicles to use and hulking bosses to defeat.
Trivia
Released in March 1990.
This game is known in Japan as "Senjou no Ookami II" (translates as 'Wolf of the Battlefield II').
Pony Canyon / Scitron released a limited-edition soundtrack album for this game (Final Fight : G.S.M. Capcom 3 - PCCB-00030) on 21/05/1990.
Updates
US versions are slightly different, they have the "Winners Don't Use Drugs" screen.
REVISION 1 :
REVISION 2 :
Tips and tricks
At the end of stage 1, a large plane rises in front of the player. If you stand .25 to .5 inches up from the bottom of the cliff, and line up so your bullets will hit just to the right of the plane's center, it cannot hit you with its cannon. This takes practice.
Series
Commando (1985)
Mercs (1990)
Commando 3 (2007, XBOX 360 - "XBLA", Playstation 3 - "PSN")
Staff
Chief Designer

S. Okano
Tokuro Fujiwara (A. Kume)
Kijima

Character Designers

Hitoshi Nishio
T. Hayashi

Sound

M. Gotoh

Sound Programmer

Y. Katayama

Programmers

M. Akahori
T. Ohta
Y. Matsui
Cabinet and Artwork
Ports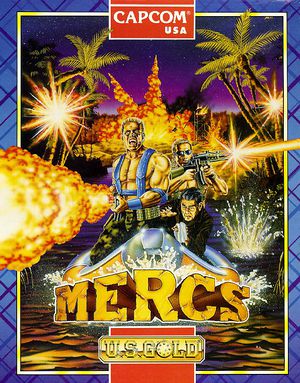 Consoles

Sega Master System (1991)
Sega Mega Drive (1991)
Sony PlayStation (1998, "Capcom Generation 4")
Sony PlayStation (1998, "Capcom Generations - Blazing Guns")
Sega Saturn (1998, "Capcom Generation 4")
Sony PlayStation 2 (2005, "Capcom Classics Collection")
Microsoft XBOX (2005, "Capcom Classics Collection")
Sony PSP (2006, "Capcom Classics Collection Reloaded")
Computers

Sinclair ZX Spectrum (1991)
Commodore C64 (1991)
Amstrad CPC (1991)
Atari ST (1991)
Soundtrack Releases
| Album Name | Catalogue No. | Released | Publisher | Comments |
| --- | --- | --- | --- | --- |
| Final Fight -G.S.M. CAPCOM 3- | PCCB-00030[1] | 1990-05-21 | Pony Canyon Inc. | 2 CD version. |
| Final Fight -G.S.M. CAPCOM 3- | PCTB-00008[2] | 1990-05-20 | Pony Canyon, Scitron Label | Double cassette version. |
External Links
References