Lost In Translation/R-Type II
From ExoticA
R-Type II

Manufacturer
Irem
Released
1989
Control
Method
8-way Joystick
4 Button(s)
Main CPU
V30 (@ 8.000 MHz)
Z80 (@ 3.580 MHz)
Sound CPU
Stereo
YM2151 (@ 3.580 MHz)
DAC
Video
Details
Raster (Horizontal)
384 x 256 pixels
55.00 Hz
512 Palette colours
Screens
1
ROM Info
18 ROMs
2,293,760 bytes (2.19 MiB)
MAME ID
rtype2 · rtype2j
About The Game
R-Type II is an horizontally scrolling arcade video game shoot-em-up.
The inevitable sequel to the hugely-successful original finds the evil Bydo Empire once again intent on the destruction of all mankind. The infamous Beam Weapon and Pod Laser make a welcome return, as do the beautifully rendered, organic-looking levels. R-type II doesn't do anything that the original didn't do, but the sequel is every bit as good as its illustrious predecessor, with the same tight game-play and imaginative level design that made R-type such a classic - although R-Type II is, if anything, more difficult than its already-unforgiving prequel.
Trivia
Released in December 1989.
Pony Canyon / Scitron released a limited-edition soundtrack album for this game (R-Type II : G.S.M. Irem 2 - PCCB-00017) on 21/01/1990.
Series
R-Type (1987)
R-Type II (1989)
R-Type Leo (1992)
R-Type III - The 3rd Lightning (1994, Nintendo Super Famicom)
R-Type Delta (1999, Sony PlayStation)
R-Type Final (2004, Sony PlayStation 2)
R-Type Tactics (2007, Sony PSP)
Cabinet and Artwork
Ports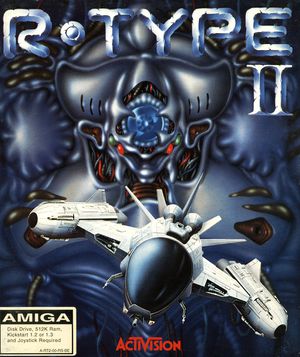 Consoles

Nintendo Super Famicom (1991, "Super R-Type")
Nintendo Game Boy (1992)
Sony PlayStation (1998, "R-Types")
Nintendo Game Boy Color (1999, "R-type DX")
Computers

Commodore Amiga ("R-Type II", 1990, Activision)
Atari ST (1989)
Soundtrack Releases
| Album Name | Catalogue No. | Released | Publisher | Comments |
| --- | --- | --- | --- | --- |
| R-Type II -G.S.M. IREM 2- | PCCB-00017[1] | 1990-01-21 | Pony Canyon/Scitron | CD version. |
| STORM! - SHOOTING GAME SOUND OMNIBUS Vol.2 | KDSD-00023[2] | 2004-01-07 | Team Entertainment | CD version. |
| R-TYPE SPECIAL | VICL-8077[3] | 1993-09-22 | Victor Entertainment Inc. | CD version. |
| Scitron 10th Anniversary Special CD Sampler | DMCZ-300098[4] | 1998-01-01 | Scitron Label | 2 CD version. |
References