Lost In Translation/Chase H.Q.
From ExoticA
Chase H.Q.

Manufacturer
Taito Corporation Japan
Released
1988
Control
Method
2-way Joystick
Analog joystick
4 Button(s)
Main CPU
(2x) 68000 (@ 12.000 MHz)
68000 (@ 12.000 MHz)
Sound CPU
Stereo
YM2610 (@ 8.000 MHz)
Video
Details
Raster (Horizontal)
320 x 240 pixels
60.00 Hz
4,096 Palette colours
Screens
1
ROM Info
53 ROMs
8,734,868 bytes (8.33 MiB)
MAME ID
chasehq · chasehqj
About The Game
Chase H.Q. is a chase-view, driving arcade video game where the player takes on the role off an undercover cop and gets behind the wheel of a custom Porsche in this Miami Vice-inspired racer from Taito. The player has 60 seconds to catch up to the criminal and then a further 60 seconds to ram his car until it is too damaged to drive.
Like Sega's seminal "Out Run", Chase H.Q. features forked junctions offering players a choice of routes; in this game, however, the route selected is merely a temporary diversion and dictates how quickly the criminal is caught up with. The player's Porsche is equipped with a limited number of turbo boosts which, when used, push the car to incredible speeds - at the expense of control. The turbos must be used wisely if the player is to have a chance of capturing the criminal before the time limit expires.
Chase H.Q. was arguably the first sprite-scaled racer since Sega's legendary "Out Run" - released 2 years' earlier - to truly capture the gaming public's imagination. The game consists of 5 levels.
Trivia
Released in November 1988.
The names main characters of chase H.Q. are as follows...
The Caucasian cop : Tony Gibson
The African-American cop (A.K.A. Mr. Driver) : Raymond Broady
Chase H.Q.'s Dispatcher : Nancy (she doesn't have a last name)
The main player's car (the black Porsche) makes an appearance in the spin-off to the Chase H.Q. series : "Crime City".
Pony Canyon / Scitron released a limited-edition soundtrack album for this game (Syvalion : G.S.M. Taito 3 - D28B0014) on 21/03/1989.
Series
Chase H.Q. (1988)
Ray Tracers (1997, Sony PlayStation)
Chase H.Q. 2 (2007)
Staff
Game Designer

Hiroguki Sakou
Game Programmers

Takeshi Ishizashi
Takeshi murata
Kyoji Shimamoto
P.C.B Designer

Masahiro Yamaguchi
Sound Designers

Yoshio Imamura
Naoto Yagishita
Eikichi Takahashi
Fumiaki Imaoka
Music Composer

Takami Asano
Cabinet Designer

Nobuyuki Iwasaki
Proposer

Yoshiharu suzuki
Cabinet and Artwork
Ports
Consoles

Nintendo Famicom (1989)
NEC PC-Engine (1989)
Nintendo Game Boy (1990)
Sega Master System (1991)
Sega Game Gear (1991) (Japan version only)
Sega Saturn (1996, "Chase H.Q. Plus S.C.I.")
Nintendo Game Boy Color (2000, Chase H.Q.: Secret Police)
FM Towns Marty
Sony PlayStation 2 (2007, "Taito Memories II Vol. 2")
Computers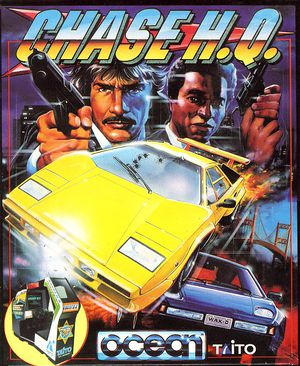 Amstrad CPC (1989)
Commodore Amiga (1989)
Atari ST (1989)
Sinclair ZX Spectrum (1990)
Commodore C64 (1990)
Sharp X68000 (1992)
Others

Mobile Phones (2004)
Soundtrack Releases
| Album Name | Catalogue No. | Released | Publisher | Comments |
| --- | --- | --- | --- | --- |
| Syvalion -G.S.M. Taito 3- | D28B-0014[1] | 1989-01-11 | Scitron Digital Content Inc. | CD version. |
| Chase H.Q. Overseas Special Version | N/A[2] | 1988-01-01 | Pony Canyon/Scitron | Cassette version. |
| Chase H.Q. / Special Criminal Investigation | TOCT-6113[3] | 1991-04-12 | Toshiba EMI | CD version. |
| Syvalion -G.S.M. Taito 3- | 25P5-0014[4] | 1989-01-11 | Scitron Digital Content Inc. | Cassette version. |
| Taito Chase H.Q. | E20H-1006[5] | 1988-11-21 | Pony Canyon, Scitron | CD-Video version. |
| Beep Special Project - SUPER ARRANGE GAME MUSIC | N/A[6] | 1988-11-01 | Softbank Publishing | Vinyl version. |
External Links
References