Lost In Translation/Special Criminal Investigation
From ExoticA
Special Criminal Investigation

Manufacturer
Taito Corporation Japan
Released
1989
Control
Method
2-way Joystick
Analog joystick
6 Button(s)
Main CPU
(2x) 68000 (@ 12.000 MHz)
68000 (@ 12.000 MHz)
Sound CPU
Stereo
YM2610 (@ 8.000 MHz)
Video
Details
Raster (Horizontal)
320 x 240 pixels
60.00 Hz
4,096 Palette colours
Screens
1
ROM Info
21 ROMs
6,619,648 bytes (6.31 MiB)
MAME ID
sci · scia · sciu
About The Game
Special Criminal Investigation is chase-view arcade video driving game.
A direct sequel to 1988's "Chase H.Q.", S.C.I. once again puts the player in charge of an unmarked police car - this time a Nissan 300ZX T-Top Turbo - in which the player must chase and capture a criminal mastermind before the time limit expires. Graphically, S.C.I. is very similar to its predecessor, although there are slight improvements with both a better use of colour and the introduction of some new weather effects; such as the rain on the first stage. Unlike the first game, the player is armed with a gun; this is used to take out criminals and roadblocks as the player races against the time limit, and also to capture the criminal mastermind and make an arrest before the time limit expires.
Trivia
The car that you drive is a Nissan 300ZX T-Top Turbo.
Soundtrack releases :
S.C.I / Taito - Pony Canyon / Scitron - PCCB-00024 - Apr 21, 1990
Updates
The US version is slightly different, it has the "Winners Don't Use Drugs" screen.
Tips and tricks
A Generous Bug?
A little known trick (or is it a very generous bug?) to this game: Start a new game, and accelerate VERY slowly until your score reaches 90. Now STOP and just let the time run out. Once your game ends, don't continue, just let the timer run down. Once that happens, you'll notice that your score will SKY-ROCKET to the ridiculous amount of 76,543,210. Now go ahead and claim your top spot on the hi-score table (cheater!@#).
Series
Chase H.Q. (1988)
Ray Tracers (1997, Sony PlayStation)
Chase H.Q. 2 (2007)
Staff
Project Leader

George Jyuttute

Game Designers

Hiroyuki Sakou
Fumio Horiuchi
Eiji Nishikawa

Software

George K-5
Yuichi Kikuchi
David Uematsu
Kazunori Sako

Character Designers

Oolong Yamada
Gyoza Ohmae
Kawamoyan
Gishikun
Kazumasa Fuseya
Gomachan
Neko Minako
Kohzoh Igarashi
Senba Takatsuna
Tetsuya Shinoda
Takayuki Ogawa

Sound Created By Team Zuntata

Takami Asano (Godiego)

Hardware

Masahiro Yamaguchi
Yuzuru Yoshimura

Mechanical Designers

Itsuji Yamada
Kazuaki Sasaki
Takaaki Deguchi

Designer

Atsushi Iwaoka
Cabinet and Artwork
Ports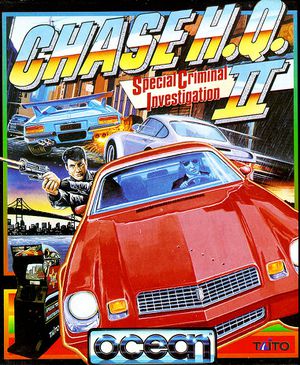 Consoles

NEC PC-Engine (1991)
Amstrad GX4000 (1991)
Sega Master System (1992)
Sega Mega Drive (1992, "Chase H.Q. II")
Sega Saturn (1996, "Chase H.Q. Plus S.C.I.")
Sony PlayStation 2 (2007, "Taito Memories II Vol. 1") (Japan only)
Computers

Atari ST (1990)
Sinclair ZX Spectrum (1991, "Chase H.Q. II")
Amstrad CPC+ (1991)
Commodore C64 (1991)
Commodore Amiga ("Chase H.Q. II - Special Criminal Investigation", 1991, Ocean)
Soundtrack Releases
| Album Name | Catalogue No. | Released | Publisher | Comments |
| --- | --- | --- | --- | --- |
| Special Criminal Investigation | PCCB-00024[1] | 1990-04-21 | Pony Canyon/Scitron | CD version. |
| Chase H.Q. / Special Criminal Investigation | TOCT-6113[2] | 1991-04-12 | Toshiba EMI | CD version. |
External Links
References